July 21, 2020
Episode 567 of A Well-Designed Business: Marketing During a Pandemic, Double Down or Drown
Karen B. Wolf Interiors was Featured on LuAnn Nigara's Podcast "A Well-Designed Business," to discuss how Karen jumped into immediate action at the outset of the Covid-19 crisis.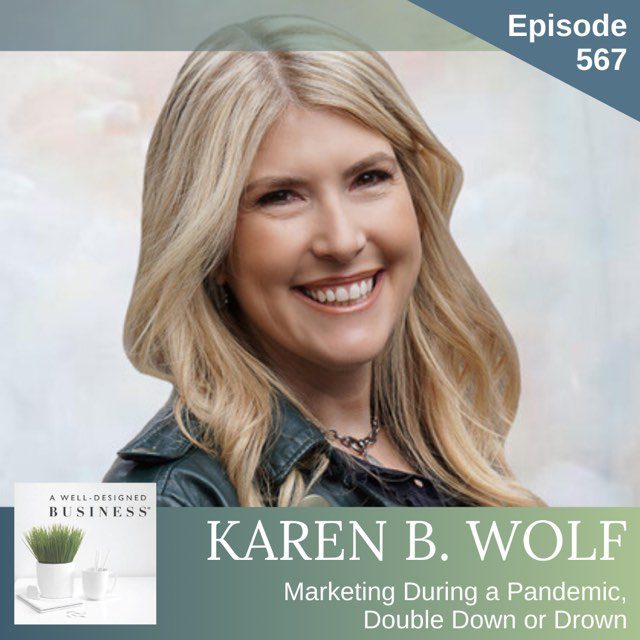 "Karen's background in marketing taught her to 'double down or drown,' and she wasn't about to drown."
Listen in to hear how Karen's decisive leadership combined with a willingness to think outside the box put her in the category of an exceptional business owner. See if you don't have some great 'A'ha' moments during this conversation!"
Karen is the Principal and Owner of nationally recognized Karen B. Wolf Interiors. She is known for her signature style—"modern elegance," which speaks to livable luxury, balanced color usage, clean lines, and layered spaces. Prioritizing her clients' input and preferred aesthetics, Karen leads her team of talented women to create upscale residential spaces that speak authentically to her clients' one-of-a-kind lifestyles and interests. Karen's enthusiasm and passion for all facets of interior design have been a driving factor in her firm's 10+ years of success and ability to work transparently, collaboratively, and effectively with her community of loyal clients.
A triple threat, Karen's education in Fine Arts, Marketing, and Trends Analysis offered her the knowledge and vision to build a successful design business from the ground up. With experience in product development, Karen always has her eye on what's new and next, organically incorporating the newest and upcoming trends in ways that are warm and timeless.
Karen's work has been featured in a number of notable regional and national publications, both print and digital, as well as on national television on NBC's George to the Rescue. A reliable source in the design industry, Karen has participated on business and design-focused podcasts and has an engaged, consistent presence at industry trade shows and conferences around the country.
Karen believes that every project deserves a little sparkle, a little color, something natural, and lots of love.
Show Highlights:
Karen explains her "double-down or drown" philosophy.
Designers should be marketing themselves 25% of the time, especially during a recession or pandemic.
Learn to identify and overcome the roadblocks and perception issues that get in the way of marketing.
Karen describes how she decided on content creation and marketing outreach for lead generation.
The biggest move Karen made was creating Design Pop Live, an IG series on Design Trends.
The content generated by these talks can be broken up into mini content for Pinterest, Facebook and blog. The content can also inspire additional topics for conversations.
"You have to step past the fear and step out. It works! After I did it once, it was just like riding a bike, all over again." – Karen
Consider hiring a marketing coordinator.
Karen details her key strategies.
Work it! Sometimes you just have to hustle to succeed, especially right now.