November 20, 2020
Design Pop Trend Series with Crypton Performance Fabrics

Last week we shared our 11th video from our DesignPop Trend Series and we'd like to thank everyone who has been keeping up with us! For those who are new to our blog, #Designpop is a video series featuring award-winning designer Karen Wolf, of Karen B. Wolf Interiors. Each week Karen covers a topic that focuses on what's hot & happening in the home.
It's no secret that we've all been #CovidCocooning at home during these strange and unprecedented times. Family rooms have become classrooms, bedrooms have been converted into art studios, and garages are now yoga studios! We've seen some creative room transformations since the onset of COVID19, and there's one common theme: it is more important than ever for our homes to be as practical & mess-proof as they are beautiful.
As a result, performance fabrics are a HUGE trend right now… but so many of us still find it hard to believe that the product actually works! That's why Karen partnered with Jack Eger and Elise Gabrielson from Crypton Fabrics on this week's #DesignPop to discuss how you can combine the worlds of style and durability with Crypton Performance Fabrics. Crypton's fabrics feature a stain-resistant technology that can withstand kids, pets, dirt, food, and more…. Do you know what that means? You can finally purchase that white sofa you've been dreaming of without worrying that it'll get ruined. Tune in below as Karen answers your burning questions and covers all of the fabric trends you need to know for the upcoming season.
Article Written by Sydney Meister
What are Performance Fabrics?
Simply put, performance fabrics are the closest thing to "magic" that you're going to find in the design industry. These fabrics are stain-resistant, odor-resistant, fade-resistant, and environmentally friendly.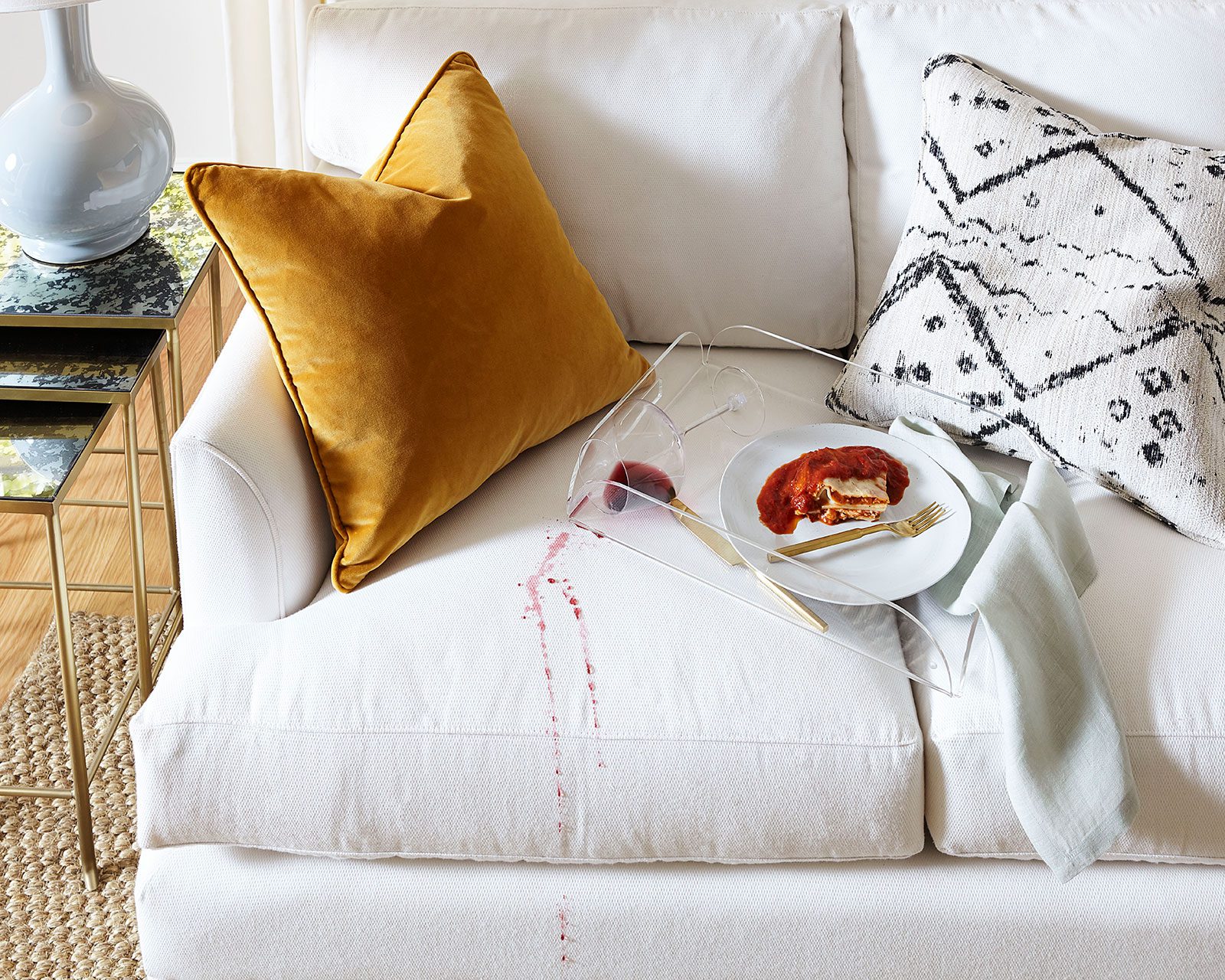 According to Jack, "Crypton's fabrics have a variety of fibers that undergo an immersion treatment. This puts a prime coat on the fabric, making it soil, stain, and antimicrobial-resistant." So what does that mean? Performance Fabrics are resistant to everything from mustard and wine to body oil and urine.
Press play on the clip below as Karen & Jack discuss exactly which foods, oils, & fluids Crypton fabric can handle:
How do you choose a Performance Fabric?
There are three simple questions you can ask yourself to determine which performance fabric is right for you:
Where do you want your fabric to go?
What kind of look are you envisioning?
How durable does this material need to be?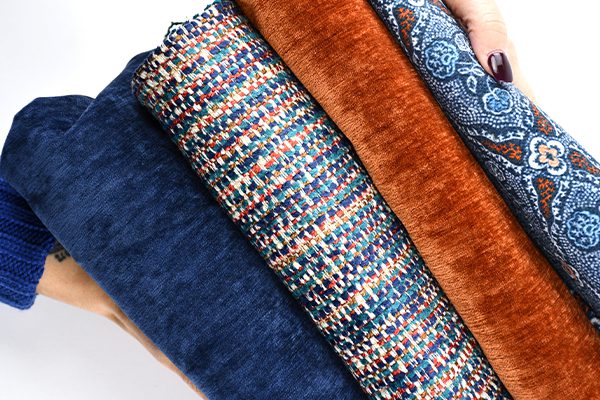 First and foremost, it's important to know where you're planning on using this fabric in the home. A multi-colored ikat print is going to look very different on a throw pillow than it will on an armchair. That's why it's equally important to envision what this fabric will look like in your space. Are you picturing a sectional that's soft & cozy or a loveseat that's luxe with brass accents? Pulling ideas from Pinterest and Instagram is always helpful. Lastly, you need to figure out how cleanable your fabric needs to be. If you have kids and pets, you'll need a material that can withstand their not-so-tiny messes (trust us).
Press play on the clip below as Karen & Elise discuss exactly how to choose a performance fabric:
How to Clean Crypton Performance Fabrics
Blot any excess liquid; wipe away excess mess with a dry, clean towel.
Mix together a simple soap and water solution. We recommend mixing 1/4 teaspoon enzyme laundry
or dish detergent, like Tide, Cheer, or Dawn, with 1 cup warm water.
Apply the solution and agitate with a soft bristle brush. Make sure to brush lightly and work from the outside of the stain inward- so you don't spread the stain. Rinse your sponge or brush frequently.
Blot with a clean towel and rinse. Repeat if necessary.
Remember, soap attracts dirt, so make sure to rinse thoroughly.
Allow fabric to air dry.
Are Performance Fabrics Ugly & Scratchy?
We're all interested in an upholstery fabric that will last… but does that mean it has to be ugly? Every designer knows that velvets, bouclés, and chenilles are trending hard right now. People are spending more time in their homes, and they want cozy, comfortable, and soft textiles more than ever. Unfortunately, designers also know that these textiles aren't "life-friendly."
Well, we're happy to report that this is no longer true!
As Karen likes to say, "performance fabrics are not your mothers." They're more comfortable, versatile, and luxurious than they've ever been before. You no longer have to choose between style and practicality. If you want a cream velvet sofa, go for it. Dreaming about white linen counter stools? Dream no further. Crypton's technology ensures that you can have your cake and eat it too, with beautiful upholstered pieces that will protect against the unexpected messes of daily life.
Press play on the clip below as Karen, Elise, & Jack discuss the feel & look of Crypton's latest fabric introductions:
Industry Insight 
According to Elise, "We're seeing an increase in performance because living rooms are school rooms and conference rooms… but this idea of durability plus comfort is more important than ever. People want to sink in the corner of their sectionals and really feel engulfed in whatever those textiles are. I see a huge trend in these super chunky chenilles because people are looking for that comfort plus the durability… If you want a fabric that is designed for the inside of your house with the technology that's permanent and patented, then Crypton is for you!"
Cozy & Comfy Fabric Swatches from Crypton:
Performance Fabric Trends for 2020-2021
As we mentioned above, it's all about comfy & cozy right now. Due to the Pandemic, the role of comfort & durability in the home has become crucial; our way of life has changed, so it's no surprise that the way we live at home is changing. As a result, soft bouclés, dreamy velvets, and chunky chenilles have become all the rage. According to Jack, "Crypton is taking more chances with fiber types and with yarn structures …  so we're doing things that really provide softness and loft without impeding the pile of the fabric." From this, I think we can see one clear trend: comfort is here to stay.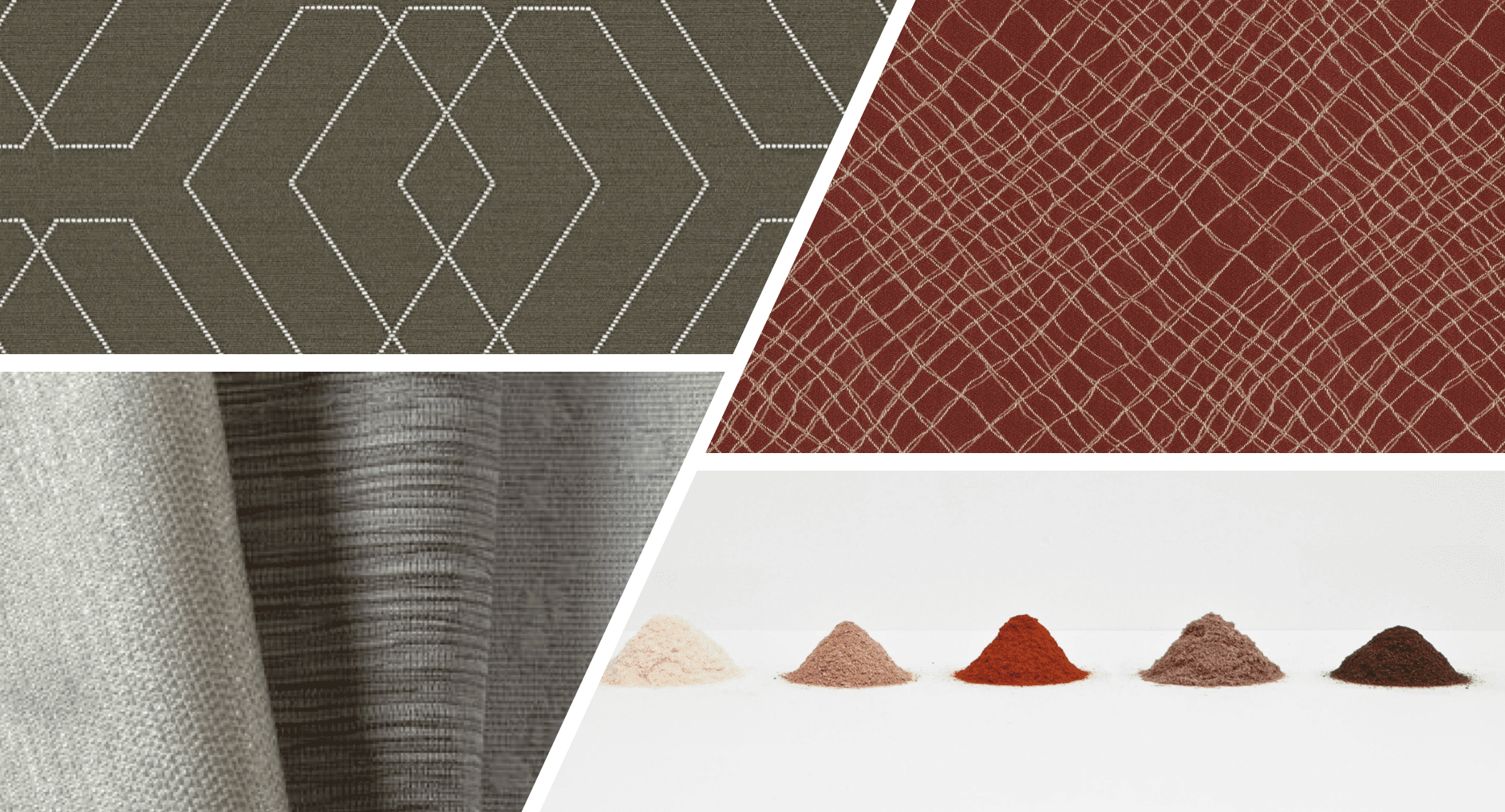 What about color and pattern?
For years we've seen neutrals dominate the market, but it looks like color is making a come-back! Elise describes how organic colors will be trending in the upcoming season. She predicts that corals, brown neutrals, saffron colors (reminiscent of the desert), greens, and paprikas are going to be hot as we head into 2021. Say goodbye to whites and grays and get ready to introduce warm, organic, and earthy color palettes into your home. Similarly, you can expect to see more patterns and pops of colors to enter the market in the upcoming months as well. Jack describes how we'll be seeing "more traditional elements with a modern interpretation… you'll see a traditional greek key that's been contemporized and a little bit more transitional."
Press play on the clip below as Karen & Jack discuss what's trending with Crypton and what to expect for 2021 fabric trends:
New Fabric Introductions from Crypton:
Keep up with Design Pop on Instagram!
Be sure to follow us on Instagram for #DesignPop updates & home inspiration you'll love.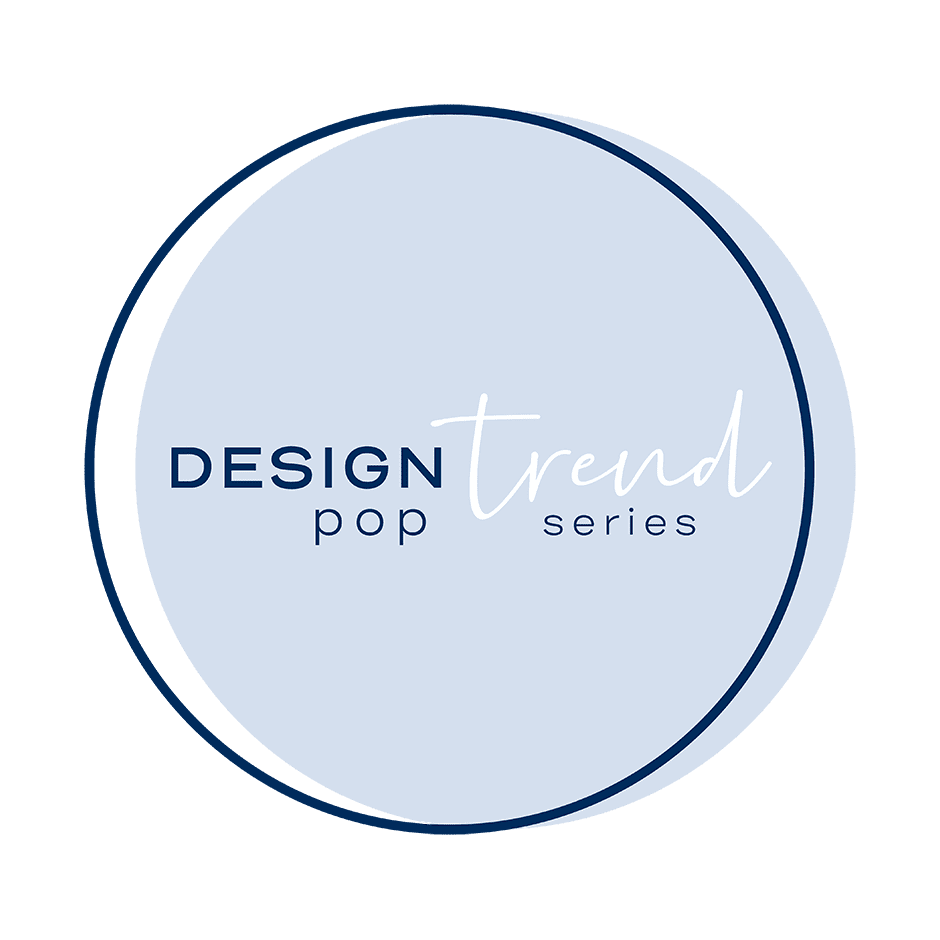 Special thanks to Jacke, Elise, and the Crypton team for taking the time to speak with us!
The Design Pop Series is Produced by Sydney Meister – contact sydney@kandcoliving.com for inquiries. 
[printfriendly]