November 2, 2021
HighPoint Market Stories: Connection is Key to Consumer Purchasing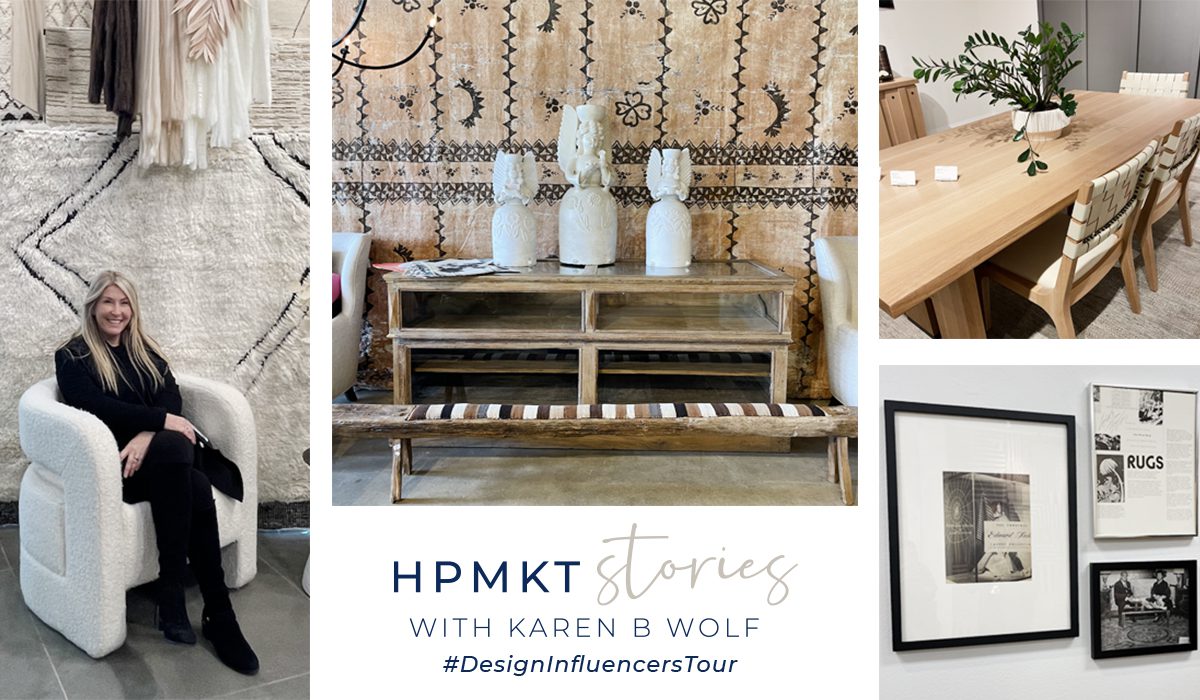 Usually, I run through the city of HighPoint during market breezing through showrooms to see what's next and new. It's a 3-4 day whirlwind of visual eye candy. I leave with piles of new resources, insights into market trends and a familiar anonymity that is comforting but placeless. Thanks to the #DesignInfluencersTour, this market was transformative. I slowed down, listened with intent and learned what makes each vendor's product line special. My new found thirst for content and connection reinforced pre and post pandemic purchasing behaviors.
Just two years ago we were racing through moments and objects lacked purpose. Today, we seek meaning and intent. The manufacturer's that invited us into their work homes shared touching perspectives and innovations that connected me to their products because I stopped and listened. I hope that these special stories I share from HighPoint Market will find a stage in your home in a meaningful way.
LET'S MEET
Norwalk Furniture
When a company is owned by its employee's that says a lot. Norwalk had been a family owned upholstery business for 117 years in Toledo Ohio. In 2008 twelve local families banded together at the height of the recession and purchased the company which is now named Norwalk Custom Order Furniture, dba Norwalk Furniture. For every sofa sold, the company donates proceeds to each employees retirement fund. Norwalk is part of the "maker's movement" where every item is touched by hand. Their product speaks to detail and pride in craftsmanship. I was super impressed with Norwalk's openness to embrace current trends through their licensing deal with Kim Salmela. And more importantly, their treatment of people. In today's war for talent, Norwalk has the formula for greatness.
❶ Great detail can show itself many ways. This one is pure creativity. Love the concept of two connecting chaises to make a corner cuddle. ❷ Kim Salmela's Grace Chair says it all. Form, pattern matching, subtle tufting and not your grandpa's motion! ❸ Look at this detail – between shape, baseball stitching, pleated channel and button tufts. PS – storage inside too!
NEXT UP
Area by Edward Fields
You can feel the mid century history when stepping on this new rug series designed by Area by Edward Fields. The colors and design patterns are as authentic as possible to the origin of the companies history. Edward Fields invented the term 'area rug' and called his pieces 'art for the floor'. He collaborated with the best designers and artists of mid-century America, including Raymond Loewy, Mies Van der Rohe, Phillip Johnson, Van Day Truex and Marion Dorn. Some of his rugs can be found in the White House or luxury yachts. Fun Fact – Edward Fields created the first "performance rug" called Terra in the mid 50's to hide animal mess.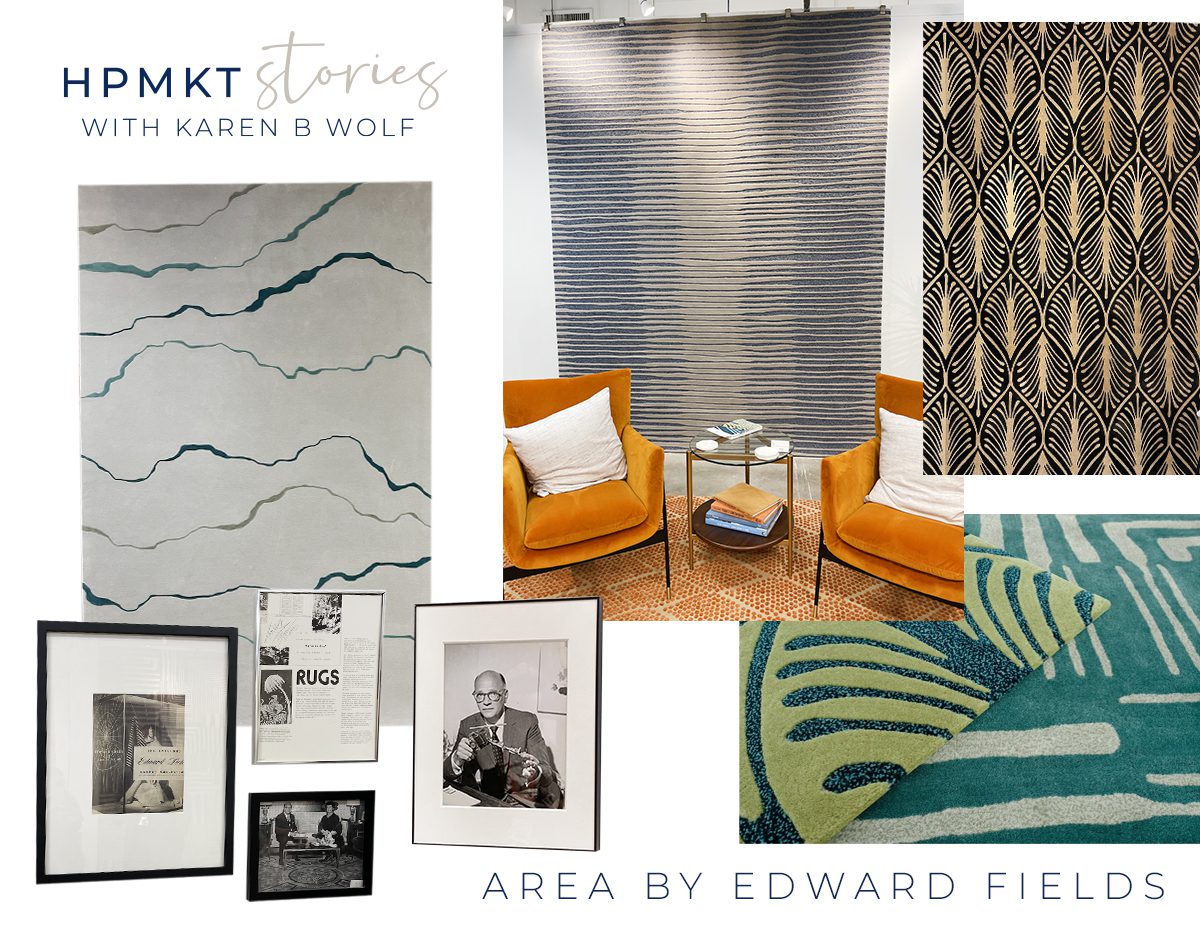 NEXT UP
Stickley Furniture
Hopefully, we all know about Stickley's American history. But what you may not know is that Stickley has reinvented part of their line to a modern aesthetic. Super talent Marissa Brown says, "we want you to feel that this furniture is handmade just for you." Maintaining the authenticity of solid wood, beautiful contouring, and handmade craftmanship Stickley's new groupings the Portfolio 120 and Walnut Grove capsule was truly flawless.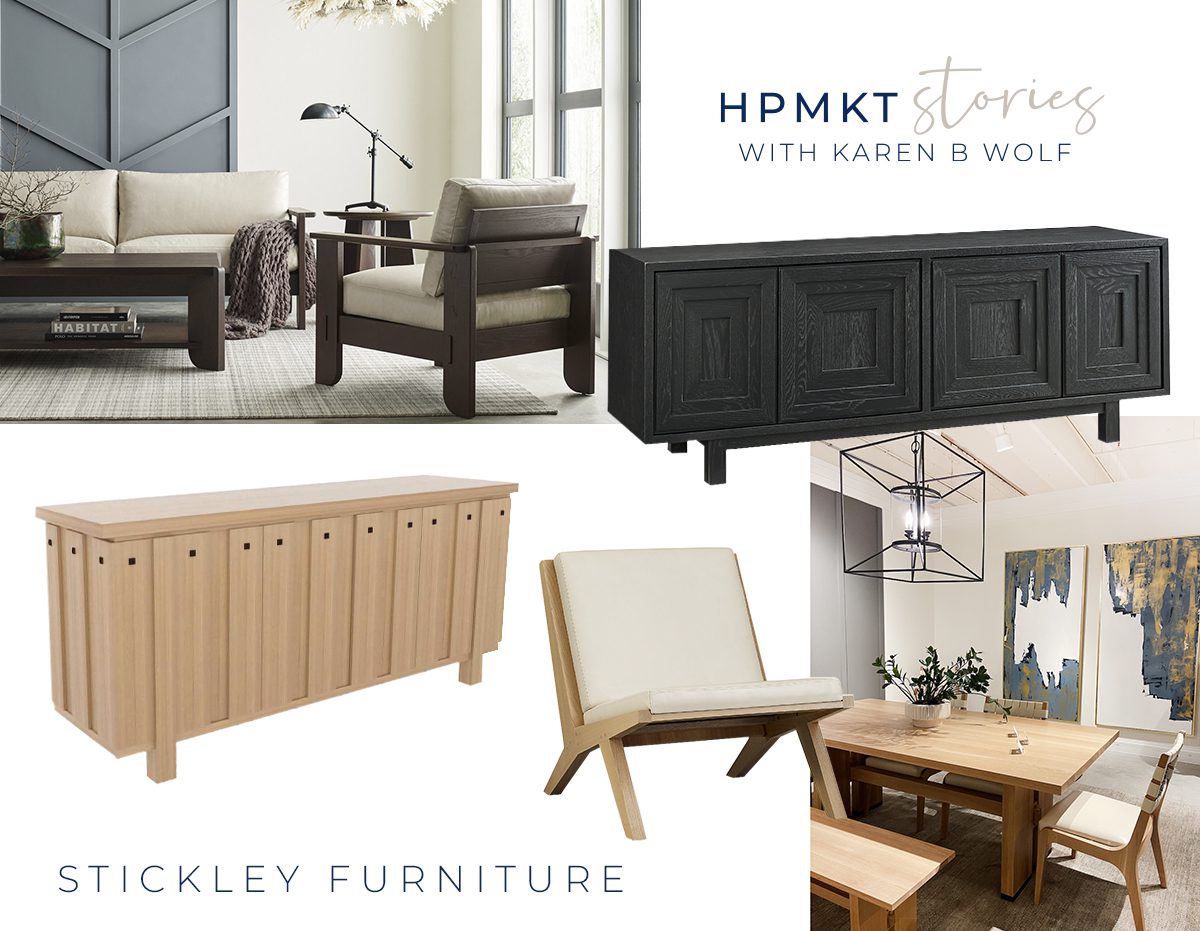 And even cooler, I think almost 8 of the companies products were up for a prestigious Pinnacle Award. (That is A LOT!) There is a reason for their nominations. The products forms exude grace and quality. I checked to see if they won any of their submissions. Not just one – but three wins.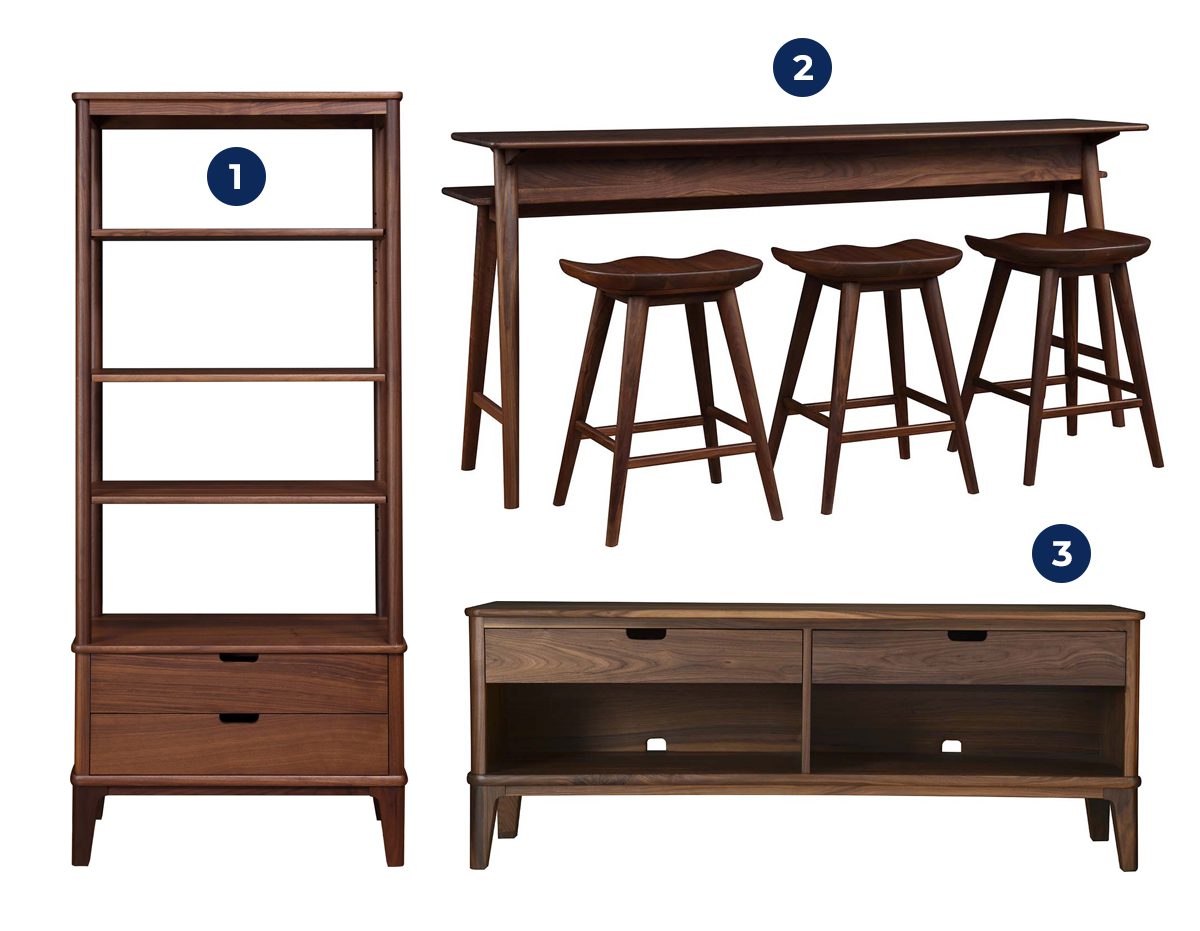 ❶ Bookcase ❷ Gathering Island and Counter Stool ❸ Walnut Grove Entertainment Console
by Marissa Brown for Stickley
NEXT UP
Shifman Mattress
I always love a story about a family business, especially father/son and especially one that is located in my neck of the woods. The Shifman story reminded me of Juniors. A brand steeped in history and quality that is revitalized by a younger generation. Since the early 1900's, Shifman has been hand creating tufted, 2-sided mattresses with 8 way hand tied boxsprings and all natural materials. The product is sold through exclusive retailers and is considered the Rolls Royce of mattresses. Sleep is critical to your well being. We spend 1/3 of our day asleep and Shifman Mattress offers proven optimal spinal support.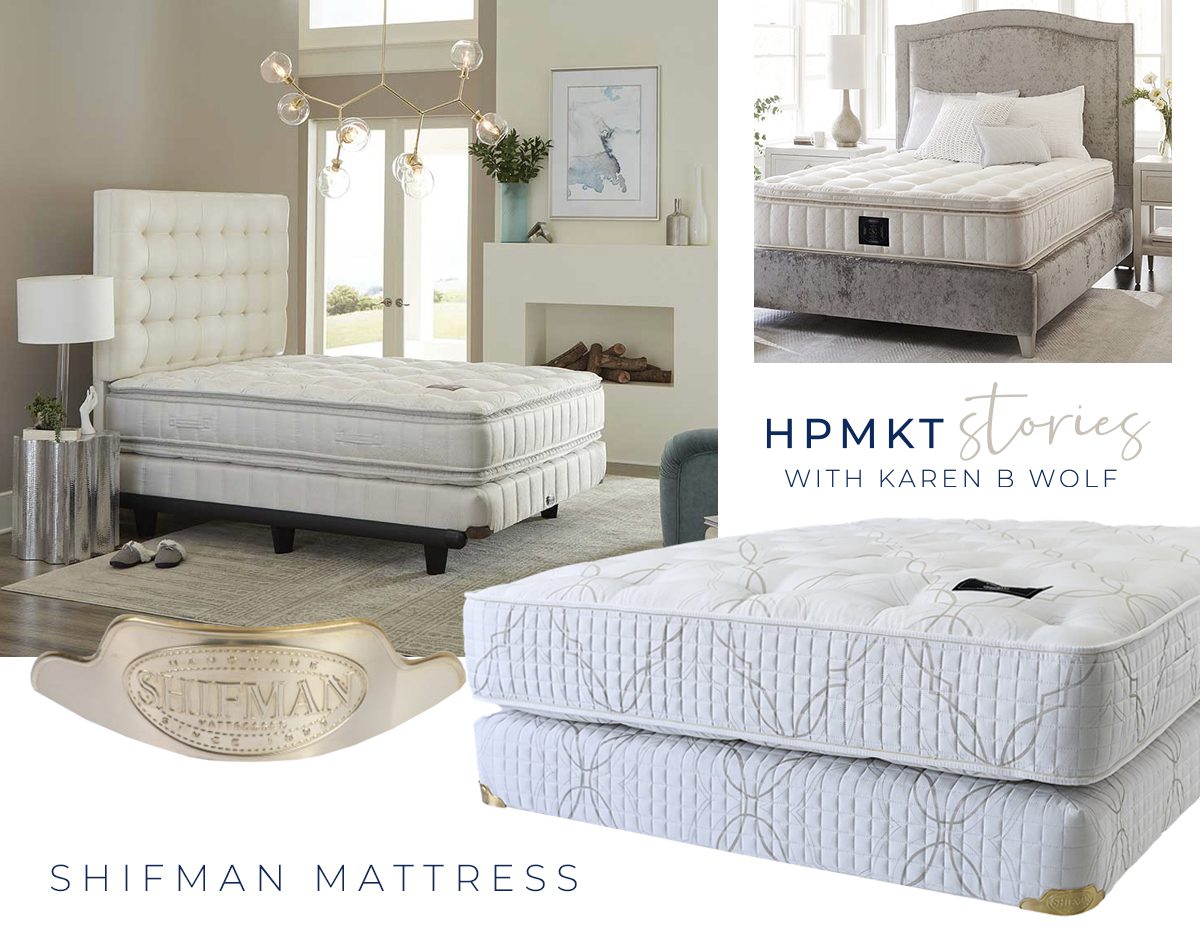 NEXT UP
Jaipur Rugs
I have been purchasing Jaipur Rugs for years, always loving the designs without a second thought on how they create and manufacture their diverse assortment. Now I can honestly select Jaipur over the competition for good reason. The company stands for women empowerment and the betterment of women's lives in their villages as part of their mission. Jaipur has created an endowment to bring looms to each home, help women open bank accounts and receive education and healthcare. Extra material is gifted to each weaver to foster creativity to the design process. Some of their finest designs are a product of this freedom. I love Jaipur's commitment to its people and the design process.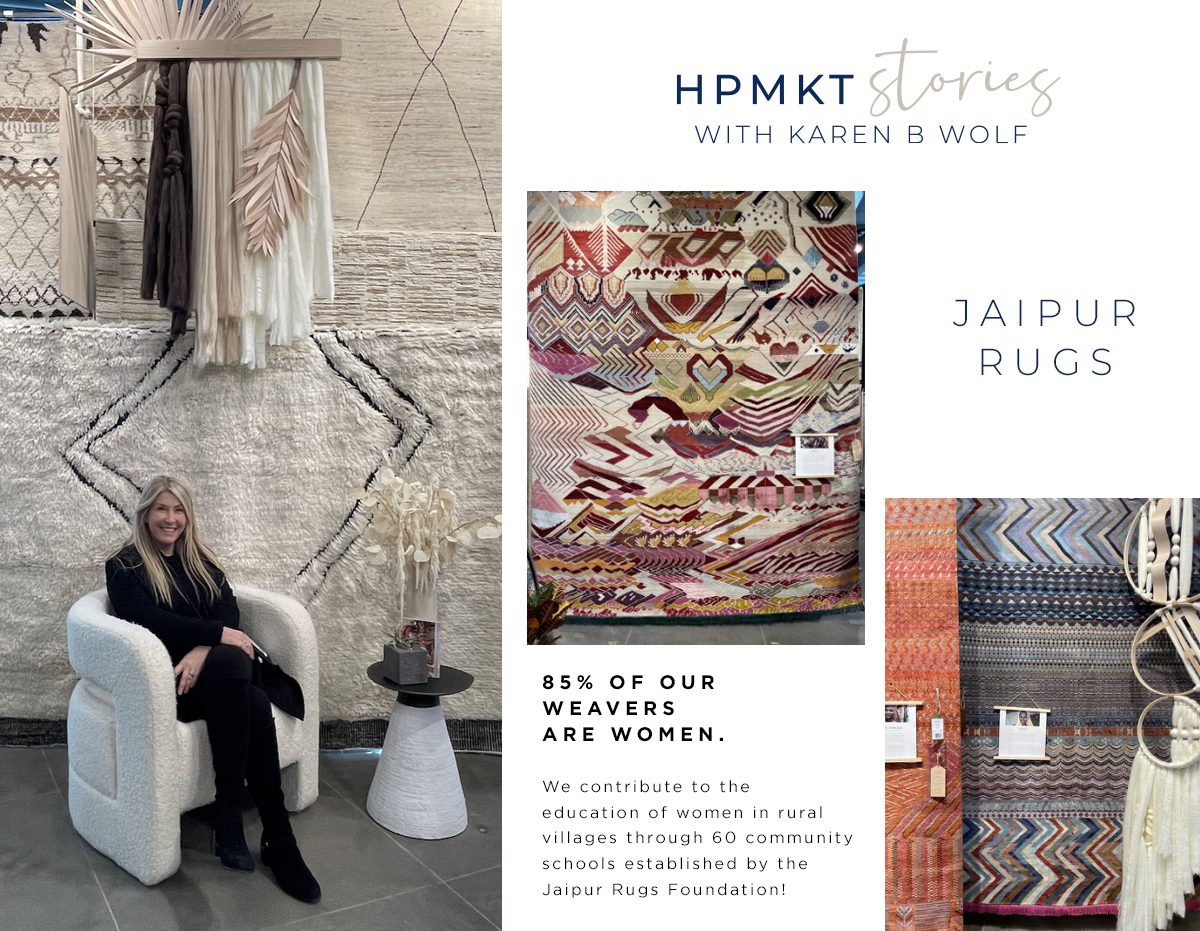 NEXT UP
Cisco Home
Off the beat and path, it takes dedication to visit Cisco Brothers at market. Not on site, but worth the visit ten fold, Cisco is housed in an old factory that was restored by Cisco Pinedo himself. Cisco's purpose is "for the good". No material is wasted and product is often one of a kind clothed in globally sourced flea market finds. Without this back story, Cisco looks vintage, cool and comfortable but the Cisco culture is what makes the product special. Formed in LA 20 years ago, Cisco came from a small community in Mexico that made all of its food. (In fact, Cisco is a great cook and prepared an amazing lunch for our tour). Bringing family, and sustainability together Cisco believes and lives his mission. Purchasing a Cisco product is not just for the good, it makes you feel good.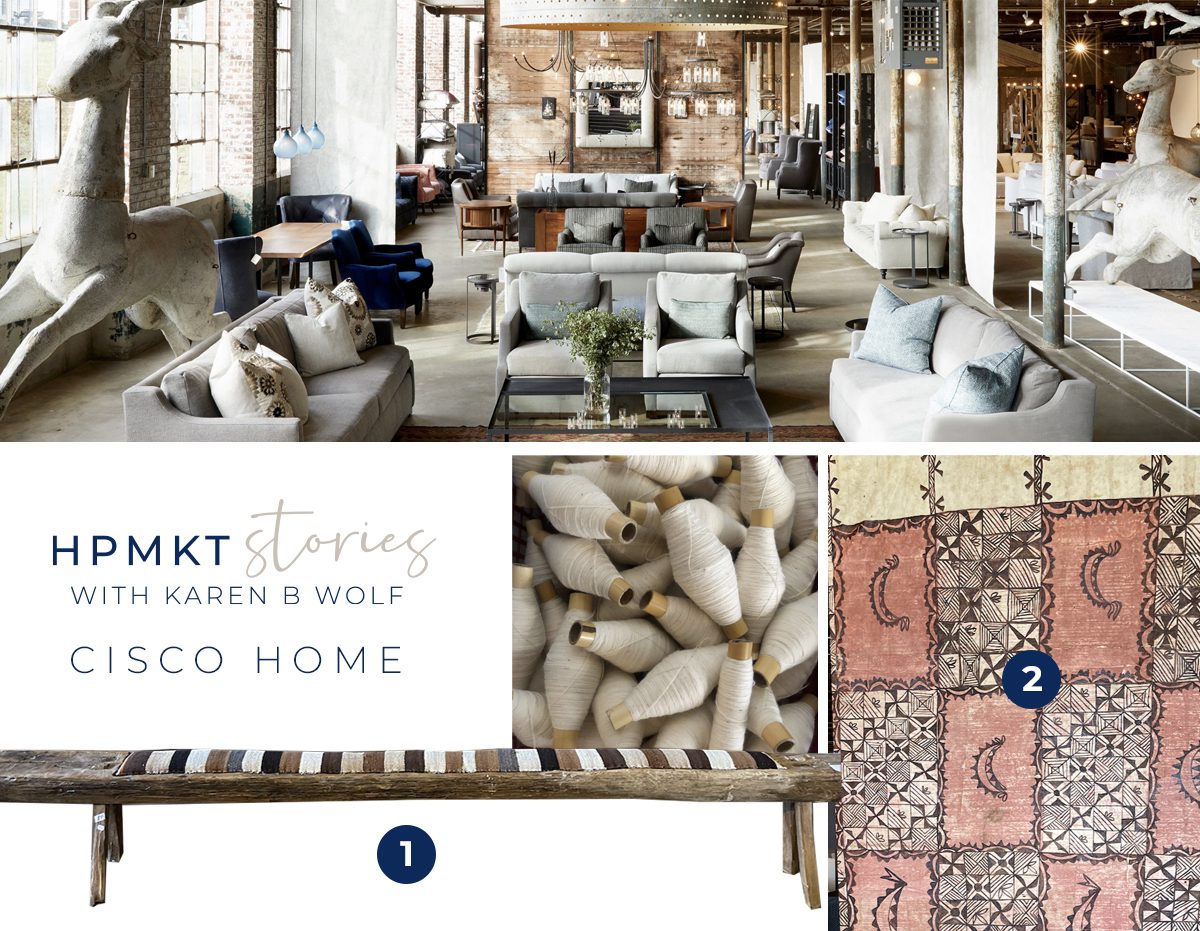 ❶ One of a kind bench. ❷ Tapas blanket made from wood pulp in Pacific Island.
Based on a recent trip to Guatemala,  Cisco created a textile collection made from upcycled denim to make the blue colors and used native cottons, lxcaco, Cuyuscate and Jade cotton to create the whites, naturals, and browns. We learned their native cottons almost went extinct in the 90s, and they made it their mission to preserve Guatemala's natural cotton colors.⁠
Statement lighting has become center stage in the last few years and Hubbardton Forge has the product and story to light up your space. One of the country's oldest and largest continuously-operating commercial forges HB is where artisans handcraft each product to order in Castleton, Vermont. This market, I saw an especially fashion forward side of HB where art, material and origin were combined. What struck me most was the passion of the lead designer who took pride of craftsmanship in all of his pieces. The belief in product was infectious and made each standout fixture more beautiful.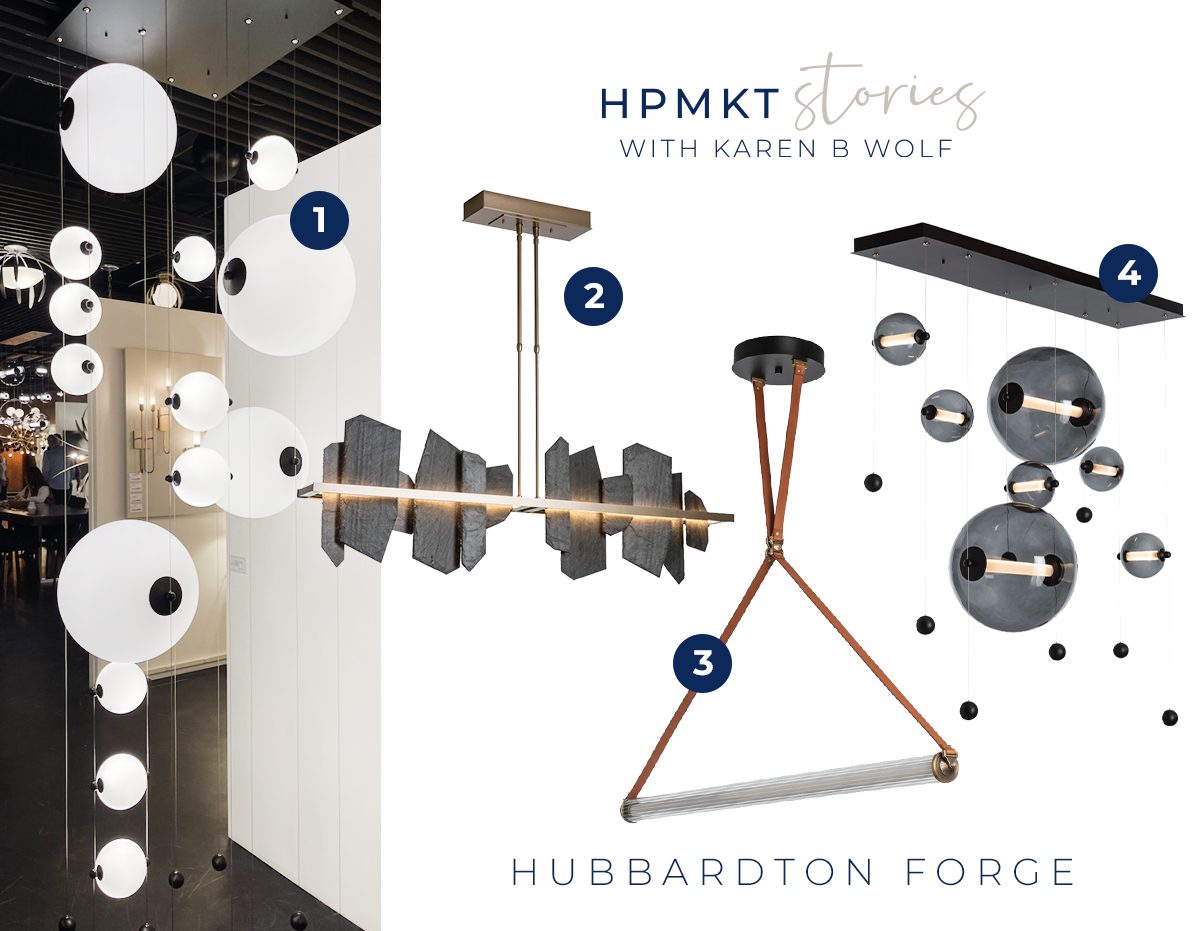 ❶

A sculptural beauty.

❷

Use of native Vermont slate in an artful way.

❸

Simplicity of form and material.

❹

Look at the weighted abacus. I wish I had a space for this incredible light art.
NEXT UP
Sherrill Furniture
American made is the newest story from HPMKT. With pandemic supply chain issues, turning to our innate resources has more value than ever. Most of the manufacturers above have an amazing made in the USA story. Let's add Sherrill Furniture to the list. I always knew they had a reputation for quality and comfort but now I get it. A true Hickory North Carolina upholstery company, Sherril makes its own frames, uses dowel construction, corner blocking, is 8 way hand tied, with coil spring construction.  They are synonymous with the way furniture used to be made.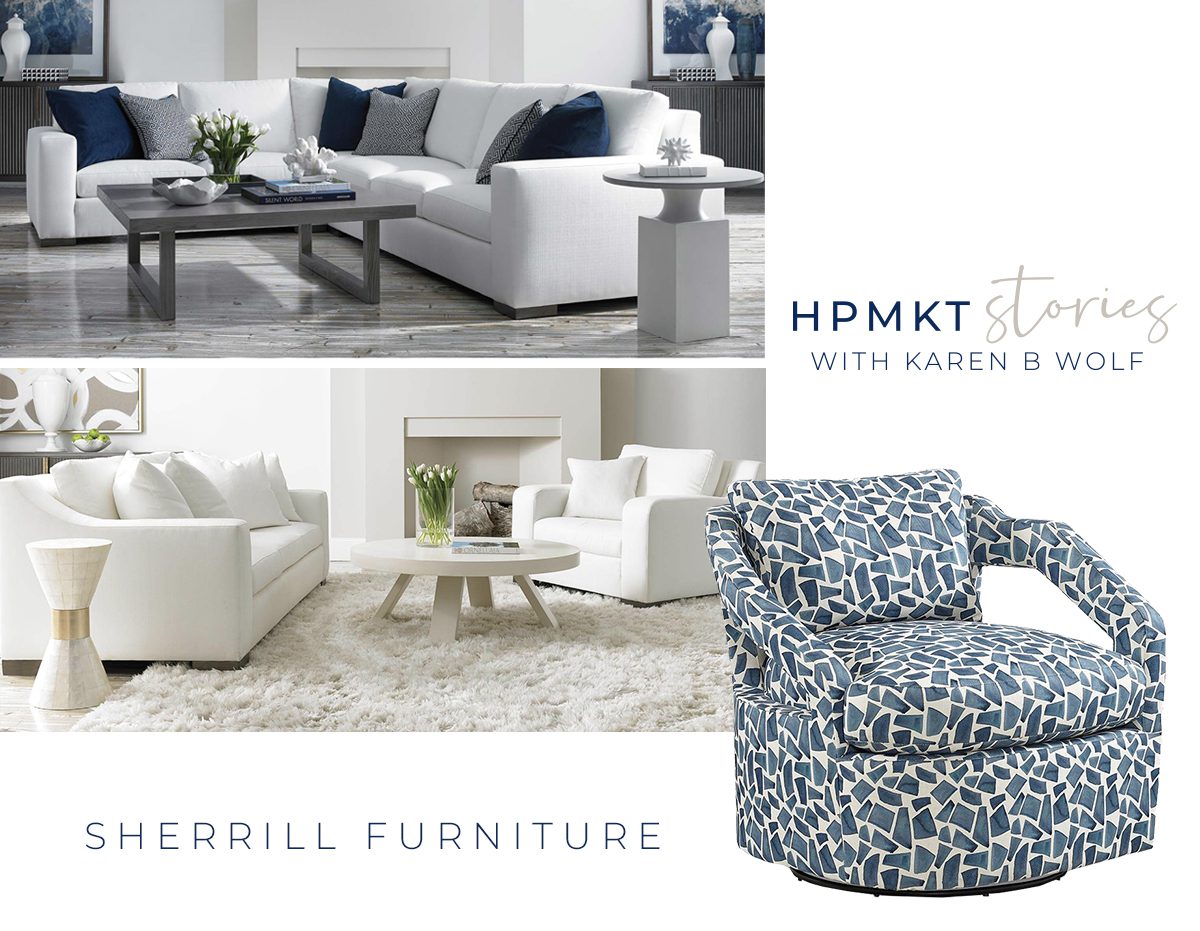 Since 1906 Lloyd Flanders has been synonymous with iconic American design. Known for its patented loom process -a weaving machine that mechanized the manufacturing process doing the work of 30 men in a day's time. Lloyd created wicker cane furniture that could hold up well in outdoor conditions.
Driven by Heywood Wakefield deco designs, Lloyd Flander's pieces represent an elegant and graceful time in our history. Today's Lloyd Flander is becoming sleeker and more contemporary to fit current outdoor trends.
Sponsors participating in the fall 2021 tour include: